Guest Manager Check In version 2 is now available on the Apple App Store.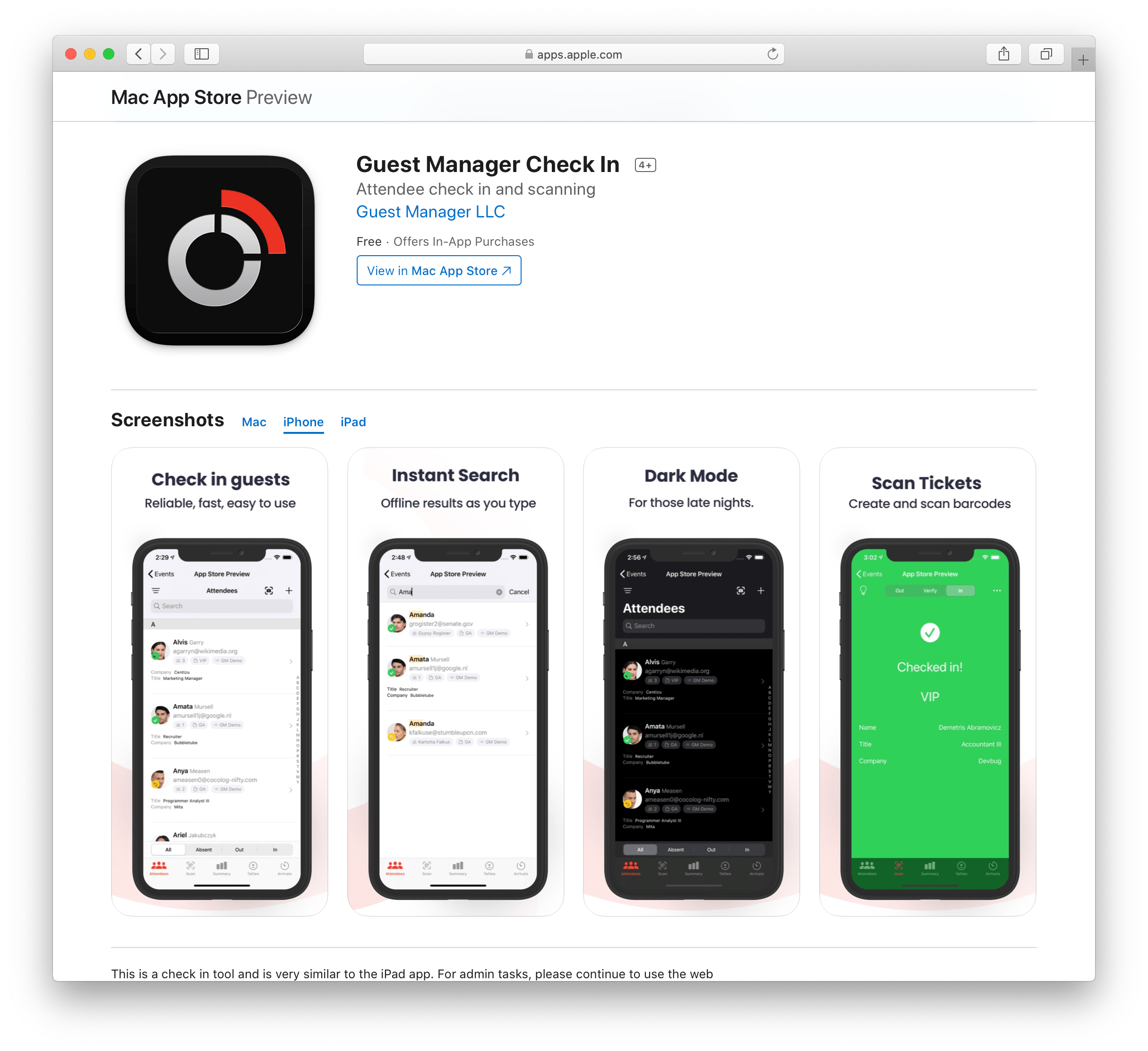 New Features
Added support for the Socket Mobile bluetooth scanners

Check In Actions

where you can configure actions to take upon check-in. This initial release includes actions for assigning a barcode to an attendee (for example activating a pre-printed pass or wristband), taking a photo, collecting a signature, product pickups, and printing a name badge. In the future we will offer actions for filling out a form, signing a waiver, and more! Let us know your ideas.

Vouchers

for events with sessions, you can allocate vouchers to an attendee, which can be redeemed for attendance at your sessions. Useful for attendance tracking where you don't know in advance which sessions an attendee will attend, and would like to pre-allocate a certain number of sessions that the attendee is eligible to attend.

Product Pickups

You can add or import items on an attendee profile to make available during check in, either scanning or lookup. This is designed to be a flexible system, used for tracking anything such as add-ons, meals, product samples, welcome packages, etc.
Bug fixes and enhancements
Navigating from an event back to the main event list is more intuitive, simply swipe up or down on the top bar while in an event to reveal the back button
Improved syncing using periodic background tasks to ensure data is kept up to date
You can now use the camera from the main attendee list to lookup a guest by scanning their barcode
Improved realtime syncing using Apple's latest iOS 13 web socket frameworks
We now request permission for push notifications so you can better control and monitor device connectivity from the web based application
When you are offline, with changes needing to sync, a push notification will remind you periodically that there is data that needs to be sent upstream
New notification at the top when working in offline mode
Can type or scan to assign a new barcode to an attendee
List registered sessions in attendee profile
Past events now display in descending order, meaning the most recently ended event is shown first
Scanner view now displays the current event and date to prevent any confusion
You can now quickly log out and in as a different PIN/user (e.g. from full access mode to Scan Only mode)
Email address is now an option to display in the attendee list
If you are scanning for sessions, and the session just ended, a friendly popup asks you to switch scanning to the next session
Improved readability of custom fields in the main attendee list
Added "Absent" tab to the attendees list, to filter by guests who are not checked in yet
Improved readability of the events list, moving date and venue to their own line