Operations
Accomplish

tasks with efficiency

Search, filter, and sort data in seconds. Bulk actions, saved searches, one click export, and more.
---
Dashboard
Powerful, efficient attendee management
One place to manage all imported guests, as well as RSVPs, invites, and sold tickets.
Search, filter, customize, export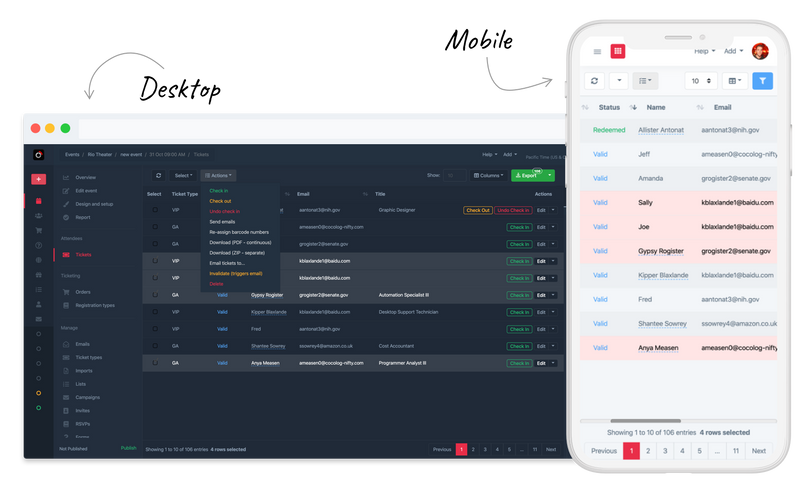 Onsite Device Manager
See how the door is doing, from your office or on the go
Design your own PDF and Apple Wallet tickets in minutes. Or bring in a graphic designer for total control.
See online and offline devices

Live status on device battery levels

Live view on checkins, graphs, and more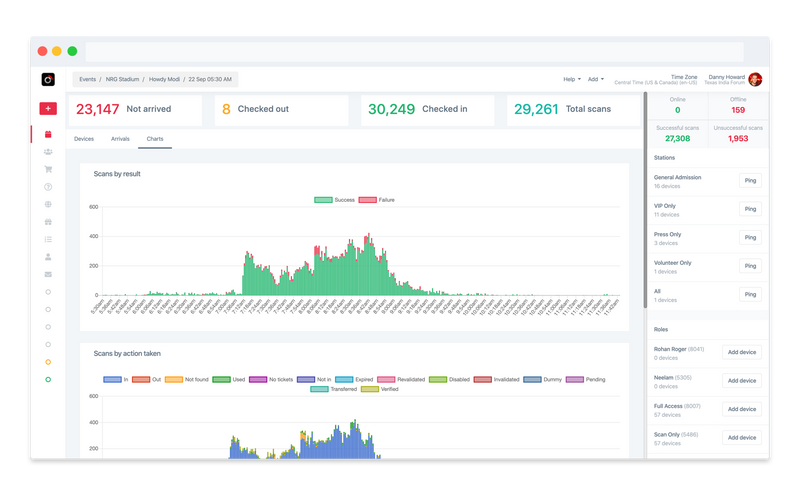 Guest Manager has been a key addition to our technology tool box. We depend on the software to streamline our event execution and have had great success implementing it. The software is user friendly and easy to learn while also providing the depth needed to run a multi-faceted event.
More great features
Collaborate with your team
Users, roles, and permissions. Get more done, together. Add admins, check in users, and more.
Distribute tickets
Email tickets to attendees, attached as a PDF, Apple wallet, or embedded in the email. Include any other attachments, such as a parking map or venue directions.
Export tickets
Download tickets manually to a zip folder or continuous multi-page PDF.
Guest list management
Keep track of comps, special guests, and more, alongside the rest of your attendees.
Copy and paste names
You receive an email last minute from a coworker asking you to add a long list of names to the list. No problem, paste it into GM, and we'll take care of alphabetizing and sending it all to the check in app in realtime.
Track your team
Any guest added to the list can be associated to the team member that added them. Get a post-event report of exactly how many guests were brought in by each of your staff.
Add guests on the go via SMS
Following the same format as copy and paste, simply text us the names. We'll automatically track the added names back to the phone number who sent them in.