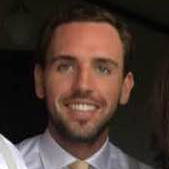 Written by
Jeff Blake
Updated over a week ago
General philosophy
You use Shopify because it is easy to use, convenient, and powerful. We agree, and get out of the way as much as possible to let you continue using all the Shopify features you are used to, opting to sprinkle in ticketing features where appropriate.
For example,
You continue to use whatever payment system you have, e.g. Shopify payments
The app creates regular products in your store, that you can treat just like any other product
The app uses fulfillment so you can track the progress of generating tickets
We integrate with your existing order confirmation emails, SMS, and check out process, as opposed to rolling our own. i.e., the app uses Shopify checkout
Ticket delivery
Guest Manager creates a Fulfillment Service for your store, and manages inventory and fulfillment for e-tickets. We use the tracking URL for shipments to deliver e-tickets. When the customer clicks the tracking URL, they will be taken to a brand-able webpage for their order, which lists all the tickets in the order for download or transfer.
We handle inventory management and automatic fulfillment for tickets. If you have automatic payment capture turned on for your store, then fulfillments will be automatically completed. If you have automatic capture turned off, then you will need to click "Request fulfillment" in the Order to trigger an email.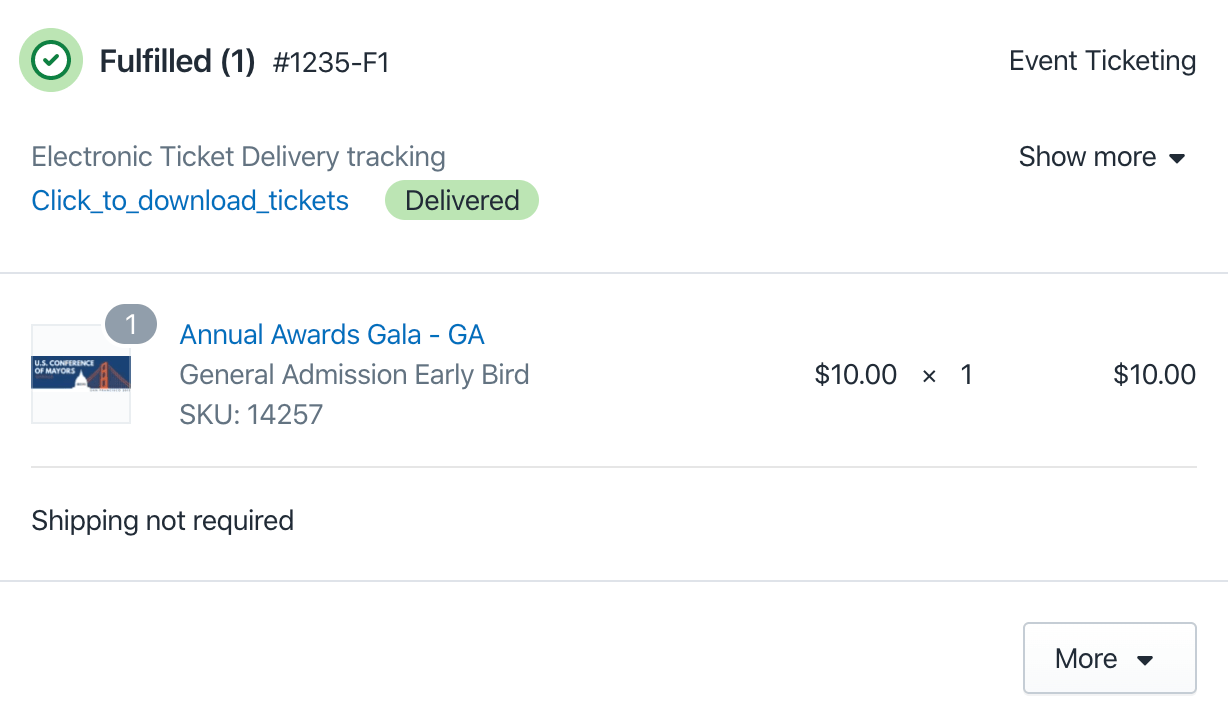 Features and customization
How do I add a quantity field to the product page?
Please follow the tutorial from Shopify here: https://shopify.dev/tutorials/customize-theme-add-quantity-selector
Cancelled events
For cancelled events, simply refund the order in the Shopify Admin, and the corresponding tickets will be automatically voided and the ticket service fee refunded to you.
Rescheduled events
For rescheduled events, simply update the date of the event in the Event Ticketing app. It may also be wise to send out an email to attendees to inform them of the date change, and to re-download their tickets. As the PDF tickets are generated on the fly when downloaded, the new date will be reflected.
Billing and plans
Free vs paid plans
The main advantages of the paid monthly plans are two-fold:
Lower cost per ticket as you sell more tickets
Ability to offer free or comped tickets (free tickets cost 1 credit each, instead of $1 dollar)
Access to the Guest Manager web dashboard

Think of it as a much more advanced version of the Shopify app
Advanced data exports, table views, filtering, searching, bulk actions, and much more
Set up separate trackable and access restricted PIN numbers for iOS scanners
Click on the Billing menu within the app to see answers to many commonly asked questions, including:
What are credits?
Standard vs Premium/Business plan differences
Per ticket service fees
What are credits? Do I need them?
Simple answer: If you only sell paid tickets, then no, don't worry about credits. Your only cost is $1 per ticket, period (plus the monthly fee if you choose to subscribe to it). If you want to offer free tickets, then you "pay in credits" instead of the $1 per ticket.
Why is there a $50 limit when I sign up?
$50 is an abritrary initial spending limit (Shopify requires us to establish monthly billing limits). You are only charged when you sell tickets. So if you install the app, approving the $50 limit, then sell 5 tickets and uninstall the app, you would be charged $5.
But I need to sell more than 50 tickets?
No problem, when you create an event, let's say with 300 tickets on sale, you will be redirected to the Shopify billing page to approve the monthly billing limit increase from $50 -> $300. In other words, every ticket you sell will always cost $1, and you can sell an unlimited number of tickets.
Which plan is right for me?
If you need to offer free or comped tickets, or import tickets, then the Advanced, Professional, or Plus Plan is required. If all of your tickets are paid, and you don't need the extra tools that the paid plans include, then the Standard plan is a good fit - you will only be charged when you sell tickets ($1 per ticket).
Can I trial it for free?
Yes! On the $0/mo plan, first off there are no recurring charges for it. And if you process test orders using the Shopify payments test mode, then you will not be charged the $1. And worse case if you do process a real payment, refund it and you will be refunded the $1 automatically.
New accounts also receive 5 free credits to use for free orders
The paid monthly plans all offer a 3 day free trial. Simply delete the app from your store or downgrade to the free Standard plan to cancel the trial.
When am I charged a dollar?
Your account is charged a dollar whenever a paid ticket is sold. Creating $0 orders in the admin, offering $0 tickets on your store, or processing test orders do not incur the $1 fee, however you cannot process free orders or free tickets on the Standard plan.
Is there a cap on $1 fees?
No. When you first install our app, you will be asked to approve a maximum of $50 in usage charges per month (i.e. 50 sold tickets). Once your balance remaining gets below $25, you will be asked to increase the limit. If your balance reaches zero, no new tickets will be generated! If you'd like to pre-approve a higher monthly cap, you may do so by clicking "Increase monthly cap" above.
What about credit card fees?
You pay these as you normally would, to Shopify, using whatever payment method you have set up (typically Shopify Payments).
Paying per ticket sounds expensive?
Well, take Eventbrite for example, they charge 3.5% + $1.59 + 2.5% (credit card fees) in the USA. So that's roughly 3.5% + 0.59 more than our pricing of a flat $1 per ticket. For a $100 ticket, you would pay just over $4 dollars more per ticket.
There are other apps that don't charge per ticket?
"You get what you pay for". Be wary of any app that doesn't charge based on the size of the event, or number of attendees. Read reviews. Does it make sense to pay $20 to handle a 2,000 person festival - from online sales, to generating e-tickets and providing robust onsite ticket scanning systems?
What are credits?
Credits allow you to use various features for free or imported tickets, such as checking in guests. Any ticket sold that incurred the $1 fee does not cost any credits. For example, if you sold 300 paid tickets (which would cost $300), and you also import 200 more guests in a spreadsheet. The import does not cost any credits, but checking in does, so that would cost 200 credits (1 credit per guest).
You are allocated either 200 or 800 credits every month (based on the plan)
Unused credits rollover to the next month
Credits do not expire
Do I need to care about credits?
In the majority of cases, no. If you only ever offer paid (i.e. non-free) tickets, then don't worry about credits! If you do need to offer free tickets, comped tickets, or import tickets manually, then read on about credits - you'll need them.
What costs a credit?
Checking in or scanning a free ticket (i.e, a ticket that did not incur the $1 fee)
Free tickets sold through your store (e.g. one order for 5 tickets will cost 5 credits)
Credits plus $1?
No! Any ticket that incurred the $1 per ticket fee will never cost credits. This means that checking in or scanning a paid ticket will never cost a credit. If you paid the $1 fee, that ticket will never incur a credit cost, under any circumstance.
Can I buy more credits?
Yes. If you need more than the allotted 800 credits, we offer credit packages that you can purchase via credit card in our external admin app. Learn more about the credit package pricing.
Free vs paid plans
What is the external admin app?
The core of our event management platform is an external app, separate to this Shopify App, which has been serving event organizers since 2011. With the premium and business plans, you have full access to all of our features, whereas the Shopify app is limited to basic features like creating events, designing tickets, viewing attendees, etc. You can learn more about and see screenshots of this admin app on our website and help docs.
Highlighted features
Set up and collect additional registration data, custom fields, questions, surveys, etc
Ticket transfers between customers (and growing your audience by collecting the email of all transfer recipients)
Creation of user specific PIN numbers for the scanning app, possible to limit event visibility and features per PIN #
Email campaign tools, direct ticket sending (with PDF ticket attachments), and more
Thousands of other features!
Shopify payments
Do customers use my payment gateway?
Yes, Event Ticketing uses your existing Shopify setup (Products, Orders, Payments, etc) to process ticket sales.
Can I sell on the point of sale app?
Yes.